NATIONAL SYMBOLS
FLAG: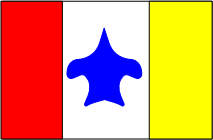 NATIONAL ANTHEM: Tundria la belliyta (Tundria the beautiful - Courtesy of David Hamill) [Music under full copyright, David Hamill, 2004] (Playable mp3 file) (... and read about David's ideas on music on David Hamill's Music)
---
TUNDRIA - MAP OF ADMINISTRATIVE DIVISIONS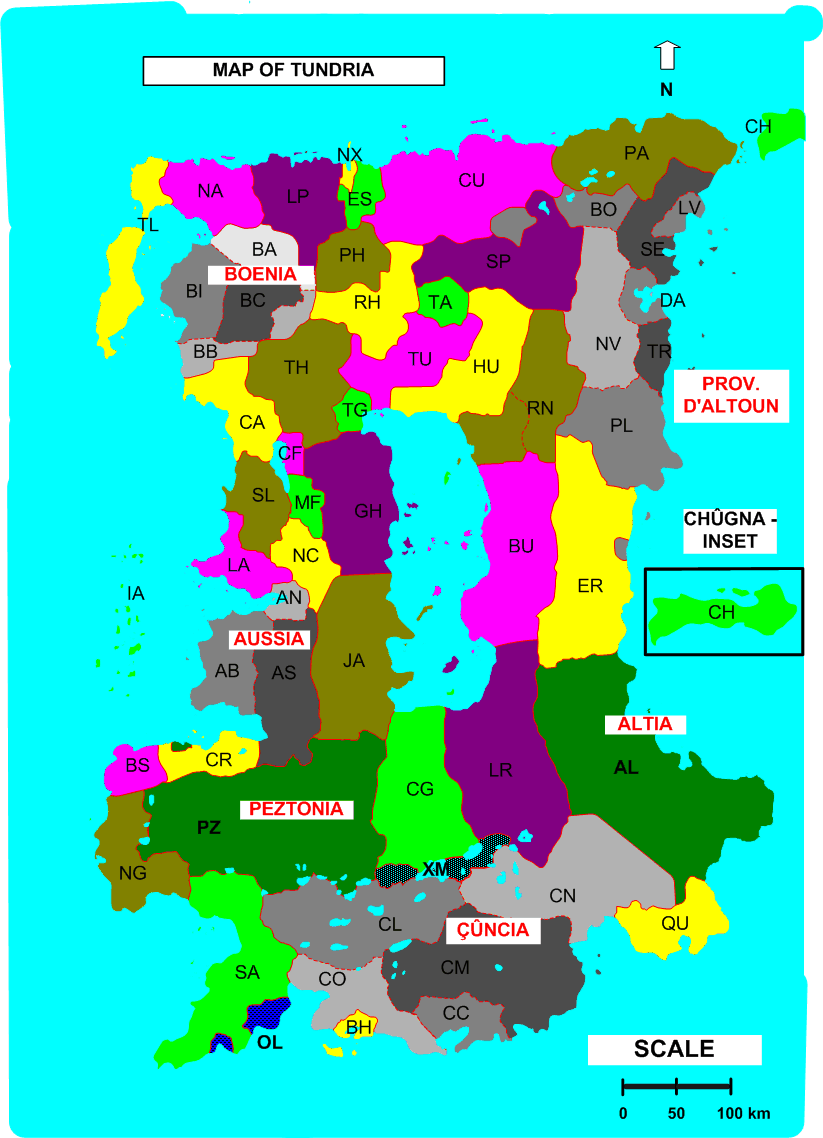 ---
NAMES OF COUNTIES AND DISTRICTS
(BY REGION AND PROVINCE)
NORTHERN REGION
CH
Chûgna
CU
Çûcrania
ES
Estroca
LP
Loprynia
NA
Nasiya
NX
Nheix
PA
Pagânia
PH
Photiq
TL
Taighole
CENTRAL REGION
HU
Huyra
RH
Rhielu
SP
Siêpoy
TA
Tanco
TU
Tunde
TG
Taigo
TH
Thaigoun
WESTERN REGION
CA
Caasti
CF
Cafno
GH
Ghoyla
JA
Jaaquia
LA
Latiyn
MF
Mifno
NC
Nooç
SL
Soolh
EASTERN REGION
BU
Bufno
CG
Cugna
ER
Erdoenia
LR
Lorno
QU
Quêrtil
RN
Roján-Nâmper
SOUTH-WESTERN REGION
BH
Bhussi
BS
Buun de Sud
CR
Chroelli
IA
Isle d'Aracán
NG
Norgen
SA
Saroumia
ALTOUN-ALTIA (PROVINCE)
AL
Altia
BO
Bovaya
DA
Distriyt d'Altoun
LV
Lovaxi
NV
Navilla
PL
Planteiri
SE
Seftarcha
TR
Triarcha
AUSSIA (PROVINCE)
AB
Aussia Bassa
AN
Aussia de Nord
AS
Aussia Sûperiour
BOENIA (PROVINCE)
BA
Baçán
BB
Boenia Blanca
BC
Boenia Central
BI
Boenia Inferiour
ÇÛNCIA (PROVINCE)
CC
Cûncia Central
CL
Cûncia-Laci
CM
Cûncia-Montanhe
CN
Cûncia de Nord
CO
Cûncia Occidental
PEZTONIA (PROVINCE)
PZ
Peztonia
SOVEREIGN STATES (not part of Tundria)
XM
Ximpia
OL
Olaer
---
Copyright Gabor Sandi 1998-2021
Disclaimer: Everything on this site was written and/or prepared at the author's discretion. The author has tried to be accurate where facts are presented, but this does not mean that these facts are necessarily accurate. People needing more reliable information should refer to appropriate sources presented, on the Internet or elsewhere, by authoritative professional or academic bodies.
To get in touch with the webmaster, send an e-mail to g_sandi at hotmail.com.
Flags on this site are from the FOTW Flags Of The World website.