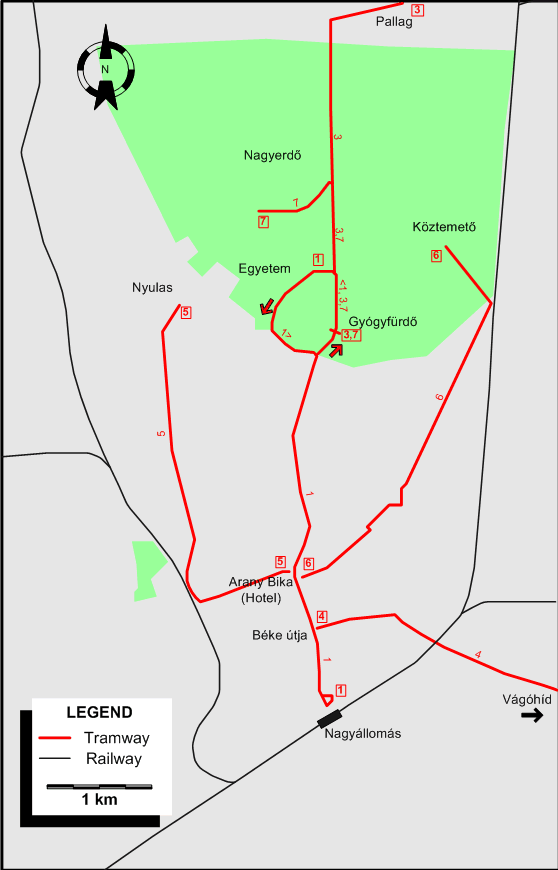 ---
TRAM ROUTES
Operator: Debreceni Közlekedési Vállalat (DKV)
| | |
| --- | --- |
| 1 | Pályaudvar [Railway Station] - Nagyerdő [Great Forest] |
| 3 | Gyógyfürdő [Spa] - Pallag |
| 4 | Béke útja - Vágóhíd [Slaughterhouse] |
| 5 | Arany Bika [Golden Bull Hotel] - Nyulas |
| 6 | Arany Bika [Golden Bull Hotel] - Köztemető [Municipal cemetery] |
| 7 | Gyógyfürdő [Spa] - Tüdőszanatórium [TB Sanatorium] |
---
CHARACTERISTICS OF THE SYSTEM
NETWORK LENGTH

HISTORY
Horse-powered trams: 1888 - 1911.
Electric trams: 1911 - today.
GAUGE
---
SOURCES
PRINT
Kubinszky, M., Lovász, I. & Villányi, Gy. Régi magyar villamosok: A történelmi Magyarország közúti vasutai a kezdettől a II. világháború végéig [Old Hungarian trams: Street railways of historic Hungary from the beginning to the end of World War II]. Budapest: Budapesti Városvédő Egyesület, (1999?).
Lehnhart, H. and Jeanmaire, C. Tramway systems of Eastern Europe II. Villigen AG (Switzerland): Verlag Eisenbahn, 1977.
Pulling, N. "Systems Factfile No.108: Debrecen, Hungary" Tramways & Urban Transit, Oct. 2016 (79: 946), p.391-395.
Taplin, M.R. "Tramways of provincial Hungary (Parts 1 and 2)", Modern Tramway and Light Railway Review, Nov.-Dec. 1973 (36: 431-432), p.382, 402-404.
WIKIS
WEB SITES
---
Copyright Gabor Sandi 1998-2019
Disclaimer: Everything on this site was written and/or prepared at the author's discretion. The author has tried to be accurate where facts are presented, but this does not mean that these facts are necessarily accurate. People needing more reliable information should refer to appropriate sources presented, on the Internet or elsewhere, by authoritative professional or academic bodies.
To get in touch with the webmaster, send an e-mail to g_sandi at hotmail.com.
Flags on this site are from the FOTW Flags Of The World website.