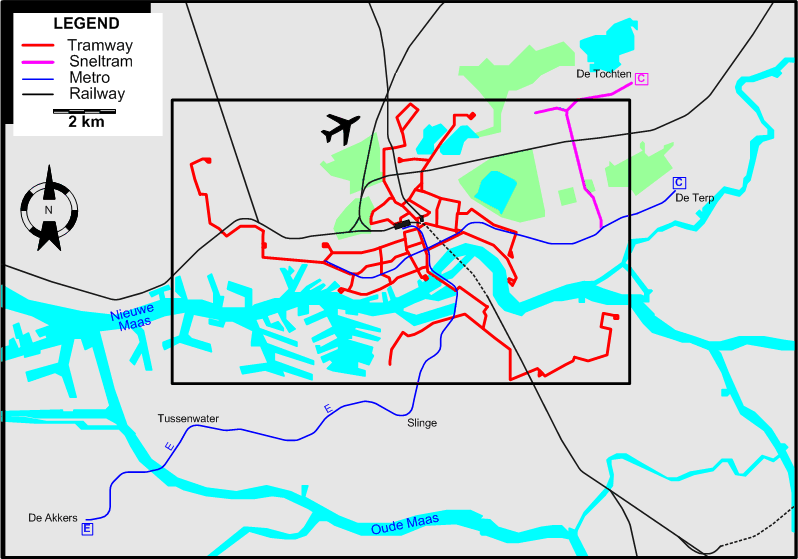 INSET: CENTRAL ROTTERDAM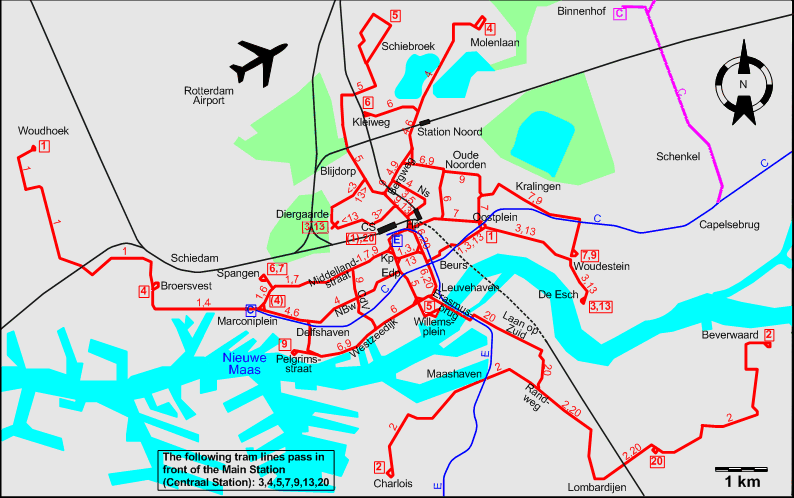 ABBREVIATIONS ON THE MAPS
| | | | |
| --- | --- | --- | --- |
| CdV | Claes de Vrieselaan | Kp | Kruisplein |
| CS | Centraal Station | NBw | Nieuwe Binnenweg |
| Edp | Eendrachtsplein | Ns | Noordsingel |
| Hp | Hofplein | | |
---
ROUTES
Operator: RET
URBAN TRAM ROUTES
| | |
| --- | --- |
| 1 | Oostplein – Kruisplein – Middellandstraat – Marconiplein – Schiedam – Woudhoek [Evenings and Sunday mornings, runs only Centraal Station – Woudhoek] |
| 2 | Charlois – Maashaven – Randweg – Lombardijen – Beverwaard |
| 3 | De Esch – Woudestein – Oostplein – Kruisplein – Centraal Station – [Blijdorp – Tiergaarde, anti-clockwise loop] |
| 4 | Schiedam Broersvest – Marconiplein – Delfshaven – Nieuwe Binnenweg – Eendrachtsplein – Kruisplein – Centraal Station – Noordsingel – Bergweg – Station Noord – Molenlaan [Evenings and Sundays, runs only Marconiplein – Molenlaan] |
| 5 | Willemsplein – Eendrachtsplein – Kruisplein – Centraal Station – Blijdorp – Schiebroek |
| 6 | Spangen – Marconiplein – Delfshaven – Westzeedijk – Leuvehaven – Hofplein – Oude Noorden – Station Noord – Kleiweg |
| 7 | Spangen – Middellandstraat – Kruisplein – Centraal Station – Stadhuis – Hofplein – Oostplein – Kralingen – Woudestein |
| 9 | Pelgrimsstraat – Westzeedijk – Claes de Vrieselaan – Middellandstraat – Kruisplein – Centraal Station – Hofplein – Bergweg – Oude Noorden – Kralingen – Woudestein |
| 13 | De Esch – Woudestein – Oostplein – Kruisplein – Centraal Station – [Tiergaarde – Blijdorp, clockwise loop] [Does not run evenings and Sundays] |
| 20 | Centraal Station – Hofplein – Leuvehaven – Erasmusbrug – Laan op Zuid – Randweg – Lombardijen |
METRO ROUTES
| | | |
| --- | --- | --- |
| C | Calandlijn | (De Tochten / Binnenhof – Schenkel) / (De Terp) – Capelsebrug – Beurs – Delfshaven – Marconiplein [Including a section of Sneltram (Fast Tram) in the northeast] |
| E | Erasmuslijn | Centraal Station – Beurs – Leuvehaven – Maashaven – Slinge – Tussenwater – De Akkers |
---
CHARACTERISTICS OF THE SYSTEM
NETWORK LENGTH
Urban trams: ? km.
Metro: 41 km. (incl. 8.4 km of Sneltram (Fast Tram))

HISTORY
Trams: (horse-drawn) 1 June 1879 - 1917; (steam) 9 Apr. 1881 - ?; (electric) 18 Sept. 1905 - today.
Interurban LRT: 29 Oct. 2006 - today.
Vicinal tramways (RTM; steam, later diesel or diesel-electric): 2 May 1898 - 14 Feb. 1966.
Metro: 9 Feb. 1968 - today.
GAUGE
Trams: 1435 mm. (Schiedam horse-tram line, 1902-1917: 1000 mm.)
Interurban LRT: 1435 mm.
Vicinal tramways: 1067 mm.
Metro: 1435 mm.
TRAM PRESERVATION
The Stichting RoMeO exhibits old trams from the city.
The Museum R.T.M. Ouddorp operates old steam and diesel trams of the RTM vicinal network.
---
SOURCES
PRINT
Koenot, L. Tram 2000 - Flash 1998. Bruxelles: Tram 2000, 1998.
Pulling, N. Systems Factfile No.78: Rotterdam, The Netherlands", Tramways & Urban Transit, March 2014 (77: 915), p.123-127.
"Systems Factfile No.20: Rotterdam, The Netherlands", Tramways & Urban Transit, May 2009 (72: 857), p.178-181.
Vreedenberg, H.A. "Enemy occupation and tramways in the Netherlands", The Modern Tramway, Apr. 1946 (9: 97), p.29-31, 36, 38.
Wansbeek, C.J. "RanDstadRail: The tram-train-metro compromise", Tramways & Urban Transit, Oct. 2006 (69: 826), p.380-384.
Wansbeek, C.J. "Blue Tram: Top notch LRT shouldn't have been axed", Tramways & Urban Transit, March 2008 (71: 843), p.100-104.
WIKIS
WEB SITES
Thanks to Dick van Efferen (from Rotterdam) for the extensive amount of information he kindly sent me, including large map files, and to Peter Zondag (from Utrecht) for information obtained through personal communication.
---
Copyright Gabor Sandi 1998-2019
Disclaimer: Everything on this site was written and/or prepared at the author's discretion. The author has tried to be accurate where facts are presented, but this does not mean that these facts are necessarily accurate. People needing more reliable information should refer to appropriate sources presented, on the Internet or elsewhere, by authoritative professional or academic bodies.
To get in touch with the webmaster, send an e-mail to g_sandi at hotmail.com.
Flags on this site are from the FOTW Flags Of The World website.