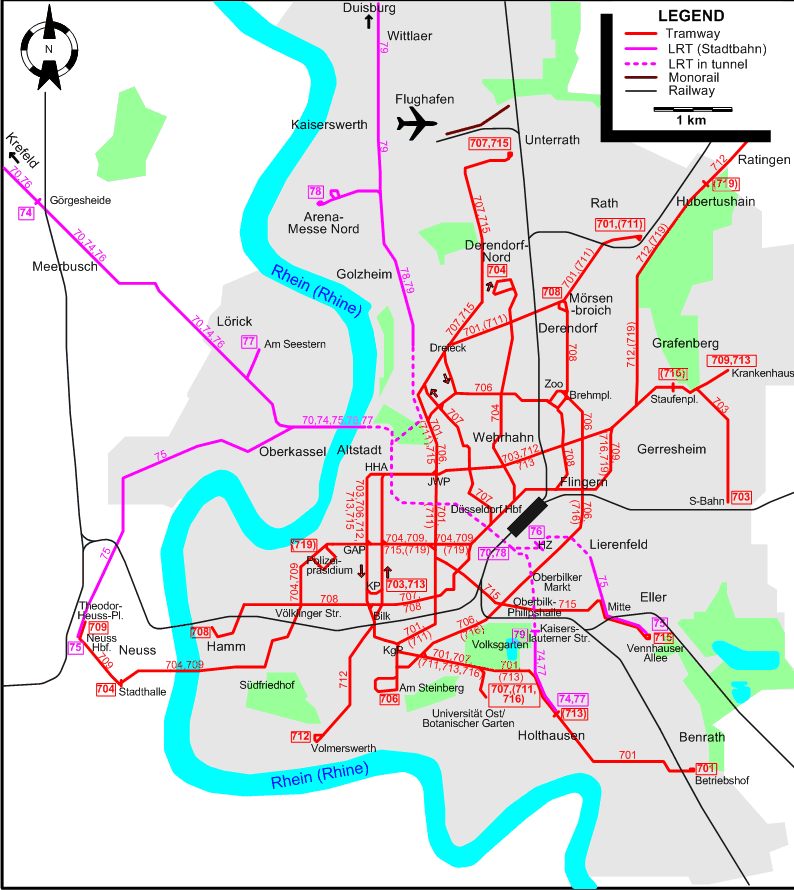 ABBREVIATIONS ON THE MAP
| | | | |
| --- | --- | --- | --- |
| GAP | Graf-Adolf-Platz | JWP | Jan-Wellem-Platz |
| HHA | Heinrich-Heine-Allee | KgP | Karolingerplatz |
| HZ | Handelszentrum | KP | Kirchplatz |
ROUTES
Operator: Rheinbahn
TRAM ROUTES
| | |
| --- | --- |
| 701 | Rath – Mörsenbroich – Derendorf – Dreieck – Jan-Wellem-Platz – Karolingerplatz – Holthausen – Benrath – Benrath, Betriebshof |
| 703 | Gerresheim S-Bahn – Grafenberg Staufenplatz – Wehrhahn – Jan-Wellem-Platz – Graf-Adolf-Platz – Kirchplatz |
| 704 | Derendorf Nord – Düsseldorf Hbf – Graf-Adolf-Platz – Völklinger Str. – Südfriedhof – Neuss, Stadthalle |
| 706 | Am Steinberg – Volksgarten – Oberbilker Markt – Flingern – Brehmplatz – Zoo – Jan-Wellem-Platz – Graf-Adolf-Platz – Bilk – Karolingerplatz – Am Steinberg [Circular route, both directions] |
| 707 | Unterrath – Dreieck – Düsseldorf Hbf – Bilk – Karolingerplatz – Universität Ost/Botanischer Garten |
| 708 | Mörsenbroich – Brehmplatz – Düsseldorf Hbf – Bilk – Hamm |
| 709 | Gerresheim, Krankenhaus – Grafenberg Staufenplatz – Flingern – Düsseldorf Hbf – Graf-Adolf-Platz – Völklinger Str. – Südfriedhof – Neuss, Stadthalle – Neuss Hbf – Neuss, Theodor-Heuss-Platz |
| (711) | Rath – Mörsenbroich – Derendorf – Dreieck – Jan-Wellem-Platz – Karolingerplatz – Universität Ost/Botanischer Garten [Rush hour only] |
| 712 | Ratingen Mitte – Hubertushain – Wehrhahn – Jan-Wellem-Platz – Graf-Adolf-Platz – Bilk – Volmerswerth |
| 713 | Gerresheim, Krankenhaus – Grafenberg Staufenplatz – Wehrhahn – Jan-Wellem-Platz – Graf-Adolf-Platz – Kirchplatz [In rush hour: – Bilk – Karolingerplatz – Holthausen] |
| 715 | Unterrath – Dreieck – Jan-Wellem-Platz – Graf-Adolf-Platz – Oberbilk/PhilipsHalle – Eller Mitte – Eller, Vennhauser Allee |
| (716) | Grafenberg Staufenplatz – Flingern – Oberbilker Markt – Volksgarten – Universität Ost/Botanischer Garten [Rush hours only] |
| (719) | Hubertushain – Flingern – Düsseldorf Hbf – Graf-Adolf-Platz – Polizeipräsidium [Rush hours only] |
LRT (WITH SOME U-BAHN (UNDERGROUND) SECTIONS) ROUTES
| | |
| --- | --- |
| U70 | Düsseldorf Hbf – Heinrich-Heine-Allee – Oberkassel – Lörick – Meerbusch – Krefeld-Fischeln – Dießem – Krefeld [Express line] |
| U74 | Meerbusch, Görgesheide – Lörick – Oberkassel – Heinrich-Heine-Allee – Düsseldorf Hbf – Oberbilk/Philipshalle – Holthausen |
| U75 | Eller, Vennhauser Allee – Eller Mitte – Lierenfeld – Handelszentrum/Moskauer Straße – Düsseldorf Hbf – Heinrich-Heine-Allee – Oberkassel – Neuss Hbf |
| U76 | Handelszentrum/Moskauer Straße – Düsseldorf Hbf – Heinrich-Heine-Allee – Oberkassel – Lörick – Meerbusch – Krefeld-Fischeln – Dießem – Krefeld |
| U77 | Am Seestern – Oberkassel – Heinrich-Heine-Allee – Düsseldorf Hbf – Oberbilk/Philipshalle – Holthausen |
| U78 | Düsseldorf Hbf – Heinrich-Heine-Allee – Golzheim – Arena/Messe Nord |
| U79 | Kaiserslauterner Str. – Düsseldorf Hbf – Heinrich-Heine-Allee – Golzheim – Kaiserswerth – Wittlaer – Duisburg |
MONORAIL ROUTE
| | |
| --- | --- |
| SkyTrain | Düsseldorf Flughafen (Airport) Hbf – Düsseldorf Flughafen (Airport) |
---
CHARACTERISTICS OF THE SYSTEM
NETWORK LENGTH
Tramway: 85 km.
LRT: 61 km. (of which underground: 12 km.)
SkyTrain (Automated monorail): 2.5 km.

HISTORY
City trams: 6 Feb. 1876 - today (6 Feb. 1876 - 21 June 1900: horse-drawn; 27 Jan. 1896 - today: electric)
Steam trams: 5 Aug. 1901 - 30 Apr. 1902
U-Bahn: 3 Oct. 1981 - today (electric)
Monorail (H-Bahn): 1 July 2002 - today
GAUGE (all systems except the monorail)
1435 mm. (there were also 1000 mm. gauge tram lines between 1989 and 1962)
---
SOURCES
PRINT
Pagel, M. and Taplin, M.R. Tramways of Western Germany. Hassocks (England): Light Rail Transit Association, 3rd ed., 1980.
Pulling, N. "Düsseldorf returns to ground", Tramways & Urban Transit, Oct. 2010 (73:874), p.382-383.
Pulling, N. "Systems Factfile No.55: Rheinbahn - Düsseldorf, Germany", Tramways & Urban Transit, Apr. 2012 (75:892), p.145-148.
Schwandl, R. Schwandl's Tram Atlas Deutschland. Berlin: Author, 2009.
WIKIS
WEB SITES
---
Copyright Gabor Sandi 1998-2019
Disclaimer: Everything on this site was written and/or prepared at the author's discretion. The author has tried to be accurate where facts are presented, but this does not mean that these facts are necessarily accurate. People needing more reliable information should refer to appropriate sources presented, on the Internet or elsewhere, by authoritative professional or academic bodies.
To get in touch with the webmaster, send an e-mail to g_sandi at hotmail.com.
Flags on this site are from the FOTW Flags Of The World website.