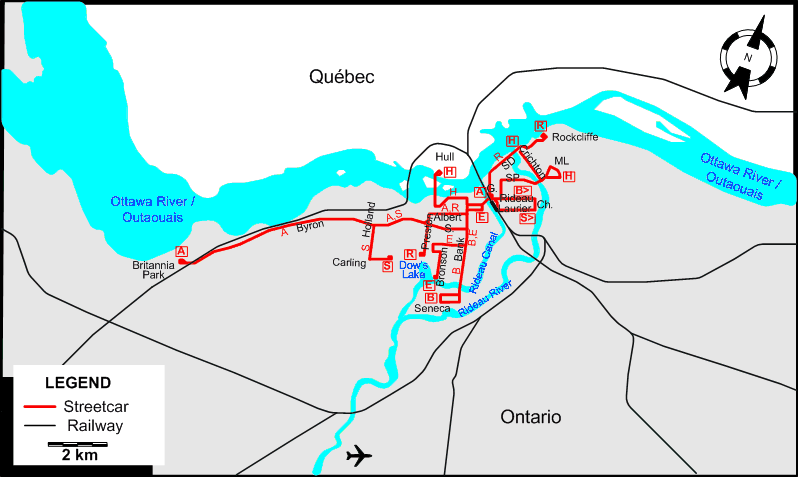 ABBREVIATIONS ON THE MAP
| | | | |
| --- | --- | --- | --- |
| Ch. | Charlotte St. | S. | Somerset St. |
| G. | George St. | SD | Sussex Drive |
| ML | Maple Lane | SP | St.Patrick St. |
---
STREETCAR ROUTES
Operator: Ottawa Transportation Commission (OTC)
| | |
| --- | --- |
| A | George St. - Downtown – Albert St.- Byron St. - Britannia Park |
| B | Seneca St. - Bank St. - Downtown - Rideau St. [Back: Laurier St.] - Charlotte St. |
| E | Downtown – Bank St. - Bronson Ave. - Dow's Lake |
| H | Hull - Downtown – St.Patrick St. - Maple Lane / Crichton St. |
| R | Preston St. - Albert St. - Downtown – Sussex Dr. - Rockcliffe |
| S | Carling Ave. - Holland Ave. – Somerset St. - Downtown – Laurier St. [Back: Rideau St.] - Charlotte St. |
---
CHARACTERISTICS OF THE SYSTEM
NETWORK LENGTH
Ottawa streetcar lines: ? km.

HISTORY
Horse-drawn streetcars: 21 July 1870 - 1893
Electric streetcars: 29 July 1891 - 1 May 1959.
O-Train (diesel LRT): 15 Oct. 2001 - today.
GAUGE
Ottawa streetcars: 1435 mm.
O-Train: 1435 mm.
---
SOURCES
PRINT
Pence, H. "Ottawa: A tale of two systems" Tramways & Urban Transit, Sept. 2015 (78: 933), p.354-357.
WIKIS
WEB SITES
---
Copyright Gabor Sandi 1998-2019
Disclaimer: Everything on this site was written and/or prepared at the author's discretion. The author has tried to be accurate where facts are presented, but this does not mean that these facts are necessarily accurate. People needing more reliable information should refer to appropriate sources presented, on the Internet or elsewhere, by authoritative professional or academic bodies.
To get in touch with the webmaster, send an e-mail to g_sandi at hotmail.com.
Flags on this site are from the FOTW Flags Of The World website.