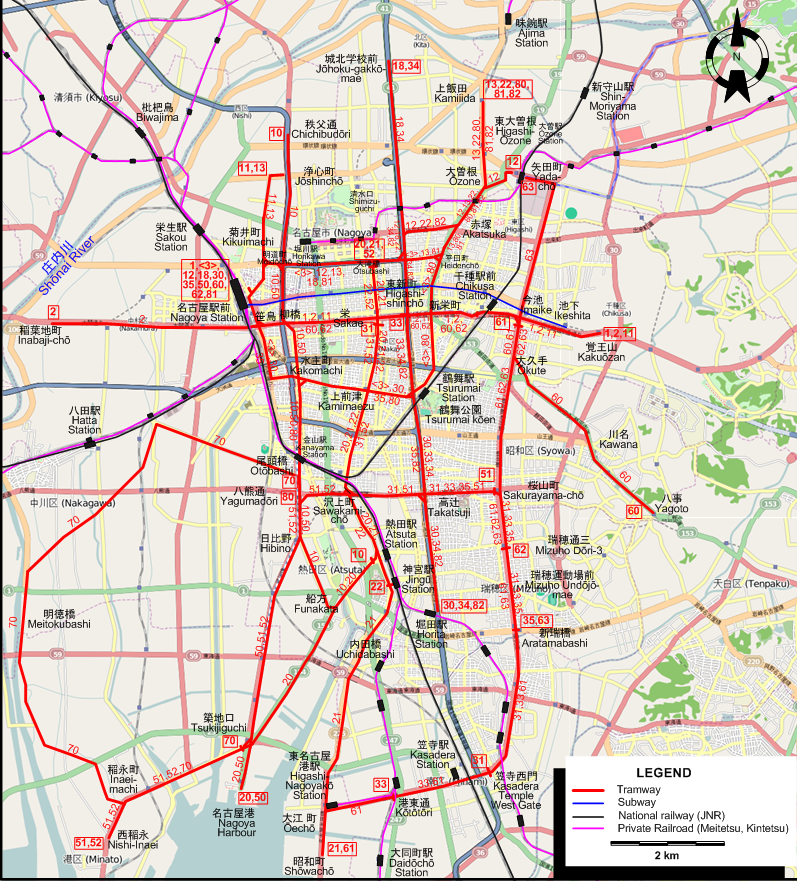 I created the above map by overlaying an OpenStreetMap (OSM) map with my own data. Copyright on the OSM map is © OpenStreetMap contributors, licensed under a CC-BY-SA (Creative Commons Attribution-ShareAlike 2.0 licence).

Please note that the OSM map used as a template for this map corresponds to the situation at the time the map was downloaded and may show features that did not exist at the time the GS Tram Site is supposed to show. In particular, it may show bridges and highways that were built later.

ABBREVIATIONS
| | | | |
| --- | --- | --- | --- |
| 笹島 | Sasashima-chō | 柳橋 | 柳橋 (Yanagibashi) |
| 新栄町 | Shin-Sakae Machi | | |
---
ROUTES
Operator: 名古屋市交通局 [Nagoya City Transportation Bureau]
URBAN TRAM ROUTES
| | |
| --- | --- |
| 1 | 名古屋駅前 (Nagoya Station) – 笹島町 (Sasashima-chō) – 柳橋 (Yanagibashi) – 栄 (Sakae) – 東新町 (Higashishinchō) – 新栄町 (Shin-Sakae Machi) – 千種駅前 (Chikusa Station) – 今池 (Imaike) – 覚王山 (Kakuōzan) |
| 2 | 稲葉地町 (Inabaji-chō) – 笹島町 (Sasashima-chō) – 柳橋 (Yanagibashi) – 栄 (Sakae) – 東新町 (Higashishinchō) – 新栄町 (Shin-Sakae Machi) – 千種駅前 (Chikusa Station) – 今池 (Imaike) – 覚王山 (Kakuōzan) |
| 3 | 名古屋駅前 (Nagoya Station) – 笹島町 (Sasashima-chō) – 水主町 Kakomachi – 上前津 (Kamimaezu) – 鶴舞公園 (Tsurumai kōen) – 新栄町 (Shin-Sakae Machi) – 平田町 (Heidenchō) – 大津橋 (Ōtsubashi) – 明道町 (Meidōchō) – 菊井町 (Kikuimachi) – 名古屋駅前 (Nagoya Station) [Circular route, both directions] |
| 10 | 秩父通 (Chichibudōri) – 浄心町 (Jōshinchō) – 明道町 (Meidōchō) – 柳橋 (Yanagibashi) – 水主町 (Kakomachi) – 尾頭橋 (Otōbashi) – 八熊通 (Yagumadōri) – 日比野 (Hibino) – 船方 (Funakata) – 熱田駅前 (Atsuta Station) |
| 11 | 浄心町 (Jōshinchō) – 菊井町 (Kikuimachi) – 名古屋駅前 (Nagoya Station) – 笹島町 (Sasashima-chō) – 柳橋 (Yanagibashi) – 栄 (Sakae) – 東新町 (Higashishinchō) – 新栄町 (Shin-Sakae Machi) – 今池 (Imaike) – 覚王山 (Kakuōzan) |
| 12 | 名古屋駅前 (Nagoya Station) – 菊井町 (Kikuimachi) – 明道町 (Meidōchō) – 大津橋 (Ōtsubashi) – 清水口 (Shimizuguchi) – 赤塚 (Akatsuka) – 大曽根 (Ōzone) – 東大曽根 (Higashi-Ōzone) |
| 13 | 浄心町 (Jōshinchō) – 菊井町 (Kikuimachi) – 明道町 (Meidōchō) – 大津橋 (Ōtsubashi) – 平田町 (Heidenchō) – 赤塚 (Akatsuka) – 大曽根 (Ōzone) – 上飯田 (Kamiiida) |
| 18 | 名古屋駅前 (Nagoya Station) – 菊井町 (Kikuimachi) – 明道町 (Meidōchō) – 大津橋 (Ōtsubashi) – 清水口 (Shimizuguchi) – 城北学校前 (Jōhoku-gakkō-mae) |
| 20 | 大津橋 (Ōtsubashi) – 栄 (Sakae) – 上前津 (Kamimaezu) – 沢上町 (Sawakami-chō) – 熱田駅前 (Atsuta Station) – 船方 (Funakata) – 築地口 (Tsukijiguchi) – 名古屋港 (Nagoya Harbour) |
| 21 | 大津橋 (Ōtsubashi) – 栄 (Sakae) – 上前津 (Kamimaezu) – 沢上町 (Sawakami-chō) – 熱田駅前 (Atsuta Station) – 内田橋 (Uchidabashi) – 大江町 (Ōechō) – 昭和町 (Shōwachō) |
| 22 | 上飯田 (Kamiiida) – 大曽根 (Ōzone) – 赤塚 (Akatsuka) – 清水口 (Shimizuguchi) – 大津橋 (Ōtsubashi) – 栄 (Sakae) – 上前津 (Kamimaezu) – 沢上町 (Sawakami-chō) – 熱田駅前 (Atsuta Station) – 熱田神宮前 (Atsuta Jingū-mae) |
| 30 | 名古屋駅前 (Nagoya Station) – 笹島町 (Sasashima-chō) – 水主町 Kakomachi – 上前津 (Kamimaezu) – 鶴舞公園 (Tsurumai kōen) – 高辻 (Takatsuji) – 堀田駅前 (Horita Station) |
| 31 | 栄 (Sakae) – 上前津 (Kamimaezu) – 沢上町 (Sawakami-chō) – 高辻 (Takatsuji) – 桜山町 (Sakurayama-chō) – 瑞穂運動場前 (Mizuho Undōjō-mae) – 新瑞橋 (Aratamabashi) – 笠寺西門 (Kasadera Temple West Gate) |
| 33 | 東新町 (Higashishinchō) – 鶴舞公園 (Tsurumai kōen) – 桜山町 (Sakurayama-chō) – 瑞穂運動場前 (Mizuho Undōjō-mae) – 新瑞橋 (Aratamabashi) – 笠寺西門 (Kasadera Temple West Gate) – 笠寺駅前 (Kasadera Station) – 港東通 (Kōtōtōri) |
| 34 | 城北学校前 (Jōhoku-gakkō-mae) – 清水口 (Shimizuguchi) – 東新町 (Higashishinchō) – 鶴舞公園 (Tsurumai kōen) – 高辻 (Takatsuji) – 堀田駅前 (Horita Station) |
| 35 | 名古屋駅前 (Nagoya Station) – 笹島町 (Sasashima-chō) – 水主町 Kakomachi – 上前津 (Kamimaezu) – 鶴舞公園 (Tsurumai kōen) – 高辻 (Takatsuji) – 桜山町 (Sakurayama-chō) – 瑞穂運動場前 (Mizuho Undōjō-mae) – 新瑞橋 (Aratamabashi) |
| 50 | 名古屋駅前 (Nagoya Station) – 菊井町 (Kikuimachi) – 明道町 (Meidōchō) – 柳橋 (Yanagibashi) – 水主町 (Kakomachi) – 尾頭橋 (Otōbashi) – 八熊通 (Yagumadōri) – 日比野 (Hibino) – 築地口 (Tsukijiguchi) – 名古屋港 (Nagoya Harbour) |
| 51 | 桜山町 (Sakurayama-chō) – 高辻 (Takatsuji) – 沢上町 (Sawakami-chō) – 八熊通 (Yagumadōri) – 日比野 (Hibino) – 築地口 (Tsukijiguchi) – 稲永町 (Inaei-machi) – 西稲永 (Nishi-Inaei) |
| 52 | 大津橋 (Ōtsubashi) – 栄 (Sakae) – 上前津 (Kamimaezu) – 沢上町 (Sawakami-chō) – 八熊通 (Yagumadōri) – 日比野 (Hibino) – 築地口 (Tsukijiguchi) – 稲永町 (Inaei-machi) – 西稲永 (Nishi-Inaei) |
| 60 | 名古屋駅前 (Nagoya Station) – 笹島町 (Sasashima-chō) – 柳橋 (Yanagibashi) – 栄 (Sakae) – 東新町 (Higashishinchō) – 新栄町 (Shin-Sakae Machi) – 千種駅前 (Chikusa Station) – 今池 (Imaike) – 大久手 (Ōkute) – 川名 (Kawana) – 八事 (Yagoto) |
| 61 | 今池 (Imaike) – 大久手 (Ōkute) – 桜山町 (Sakurayama-chō) – 瑞穂運動場前 (Mizuho Undōjō-mae) – 新瑞橋 (Aratamabashi) – 笠寺西門 (Kasadera Temple West Gate) – 笠寺駅前 (Kasadera Station) – 港東通 (Kōtōtōri) – 大江町 (Ōechō) – 昭和町 (Shōwachō) |
| 62 | 名古屋駅前 (Nagoya Station) – 笹島町 (Sasashima-chō) – 柳橋 (Yanagibashi) – 栄 (Sakae) – 東新町 (Higashishinchō) – 新栄町 (Shin-Sakae Machi) – 千種駅前 (Chikusa Station) – 今池 (Imaike) – 大久手 (Ōkute) – 桜山町 (Sakurayama-chō) – 瑞穂通三 (Mizuho Dōri-3) |
| 63 | 矢田町 (Yada-chō) – 今池 (Imaike) – 大久手 (Ōkute) – 桜山町 (Sakurayama-chō) – 瑞穂運動場前 (Mizuho Undōjō-mae) – 新瑞橋 (Aratamabashi) |
| 70 | 築地口 (Tsukijiguchi) – 稲永町 (Inaei-machi) – 明徳橋 (Meitokubashi) – 尾頭橋 (Otōbashi) |
| 80 | 上飯田 (Kamiiida) – 大曽根 (Ōzone) – 赤塚 (Akatsuka) – 平田町 (Heidenchō) – 新栄町 (Shin-Sakae Machi) – 鶴舞公園 (Tsurumai kōen) – 上前津 (Kamimaezu) – 水主町 Kakomachi – 尾頭橋 (Otōbashi) – 八熊通 (Yagumadōri) |
| 81 | 上飯田 (Kamiiida) – 大曽根 (Ōzone) – 赤塚 (Akatsuka) – 平田町 (Heidenchō) – 大津橋 (Ōtsubashi) – 明道町 (Meidōchō) – 菊井町 (Kikuimachi) – 名古屋駅前 (Nagoya Station) |
| 82 | 上飯田 (Kamiiida) – 大曽根 (Ōzone) – 赤塚 (Akatsuka) – 清水口 (Shimizuguchi) – 清水口 (Shimizuguchi) – 東新町 (Higashishinchō) – 鶴舞公園 (Tsurumai kōen) – 高辻 (Takatsuji) – 堀田駅前 (Horita Station) |
SUBWAY ROUTE
| | |
| --- | --- |
| 1 | 名古屋駅前 (Nagoya Station) – 栄 (Sakae) – 千種駅前 (Chikusa Station) – 今池 (Imaike) – 池下 (Ikeshita) |
---
CHARACTERISTICS OF THE SYSTEM
NETWORK LENGTH
Urban tramway: ca. 105 km.
Subway : 6 km.

HISTORY
Municipal tramway: 6 May 1898 - 31 March 1972
Subway: 15 Nov. 1957 - today.
GAUGE
Municipal tramway: 1067 mm.
Subway: 1435 mm.
TRAM PRESERVATION
The Nagoya City Tram & Subway Museum near Akaike (赤池) station has a few old preserved trams in its collection.
---
SOURCES
PRINT
Demery, L.W., Forty, R., DeGroote, R. and Higgins, J.W. Electric railways of Japan - Vol.2: Central Japan. London: Light Rail Transit Association, 1985.
原口隆行 (Haraguchi, T.) 日本の路面電車 I (Japan's Street Railways, Pt.I) Tokyo: JTB, 2000.
徳田耕一 (Tokuda, K.) 名古屋市電が走った街今昔 (Nagoya City tramways - Yesterday and today). Tokyo: JTB, 1999.
WIKIS
WEB SITES
---
Copyright Gabor Sandi 1998-2019
Disclaimer: Everything on this site was written and/or prepared at the author's discretion. The author has tried to be accurate where facts are presented, but this does not mean that these facts are necessarily accurate. People needing more reliable information should refer to appropriate sources presented, on the Internet or elsewhere, by authoritative professional or academic bodies.
To get in touch with the webmaster, send an e-mail to g_sandi at hotmail.com.
Flags on this site are from the FOTW Flags Of The World website.