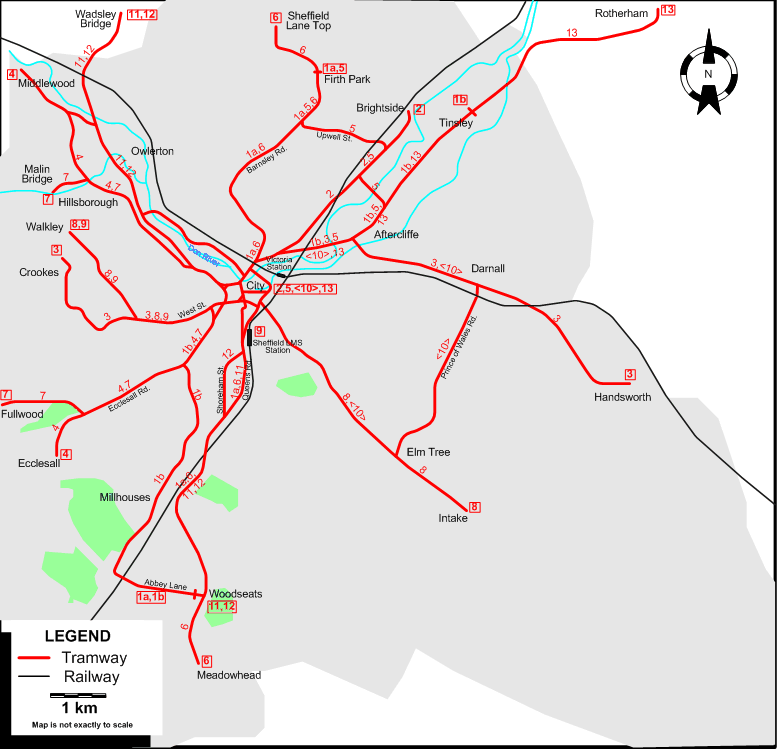 ---
TRAM ROUTES
Operator: Sheffield Corporation Tramways
| | |
| --- | --- |
| 1a | Firth Park - Barnsley Rd. - City - Station - Queens Rd. - Woodseats - Abbey Lane (continues as 1b) |
| 1b | Tinsley - Aftercliffe - City - Millhouses - Abbey Lane (continues as 1a) |
| 2 | City - Brightside |
| 3 | Crookes - West St. - City - Darnall - Handsworth |
| 4 | Middlewood - Hillsborough - City - Ecclesall Rd. - Ecclesall |
| 5 | City - Aftercliffe - Upwell St. - Firth Park |
| 6 | Sheffield Lane Top - Firth Park - Barnsley Rd. - City - Station - Queens Rd. - Woodseats - Meadowhead |
| 7 | Malin Bridge - Hillsborough - City - Ecclesall Rd. - Fulwood |
| 8 | Walkley - West St. - City - Elm Tree - Intake |
| 9 | Walkley - West St. - City - Station |
| 10 | City - Elm Tree - Prince of Wales Rd. - Darnall - City [Circular route, both directions] |
| 11 | Wadsley Bridge - City - Queens Rd. - Woodseats |
| 12 | Wadsley Bridge - City - Shoreham St. - Woodseats |
| 13 | Rotherham - Tinsley - Aftercliffe - City [Operated jointly with Rotherham Corporation] |
NB: Route numbers are indicative only, and were not used.
---
NETWORK LENGTH

HISTORY
Tramways
Horse–powered tramway: Oct. 1873 - Nov. 1902.
First-generation electric tramway: 5 Sept. 1899 - 8 Oct. 1960.
Revived tramway (electric overhead): 21 March 1994 – today.
GAUGE
---
PRINT
Bett, W.H. & Gillham, J.C. Great British tramway networks. London: Light Railway Transport League, 1962.
Bower, R. "Sheffield Corporation Tramways", The Modern Tramway, June 1948 (11: 126), p.49; 52-54.
Fox, P. "Tram operation in Sheffield: Progress, problems and a crisis". In: Light Rail Review 7. London: Light Rail Transit Association, 1995 [p.63-71].
Pulling, N. "Systems Factfile No.40 - Sheffield Supertram, UK", Tramways & Urban Transit, Jan. 2011 (74:877), p.19-22.
Jones, B. "Sheffield: South Yorkshire's quiet success story", Tramways & Urban Transit, June-July 2007 (70:834-835), p.212-216; 253-256.
Read, G.. "Sheffield: Double the distance?", Tramways & Urban Transit, Aug. 2003 (66: 788), p.288-291.
WIKIS
WEB SITES
---
Copyright Gabor Sandi 1998-2019
Disclaimer: Everything on this site was written and/or prepared at the author's discretion. The author has tried to be accurate where facts are presented, but this does not mean that these facts are necessarily accurate. People needing more reliable information should refer to appropriate sources presented, on the Internet or elsewhere, by authoritative professional or academic bodies.
To get in touch with the webmaster, send an e-mail to g_sandi at hotmail.com.
Flags on this site are from the FOTW Flags Of The World website.